Electronic instruments, mechanical sculptures, robots etc. by David Cranmer
About this site / commissions / for sale / contact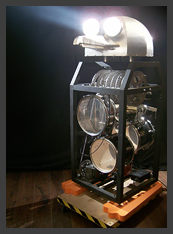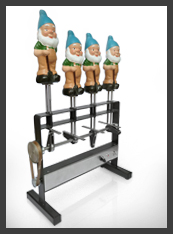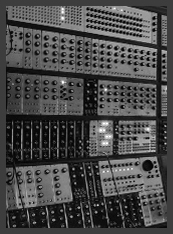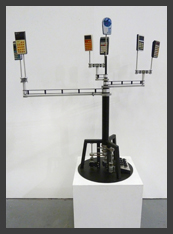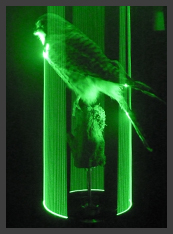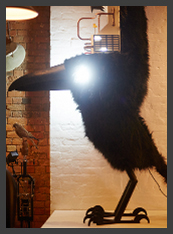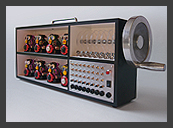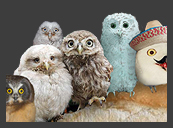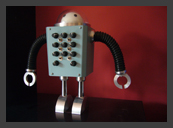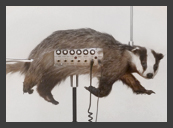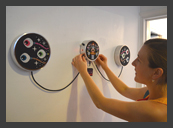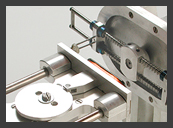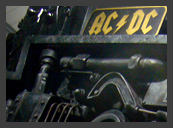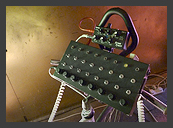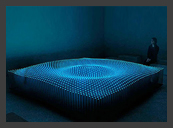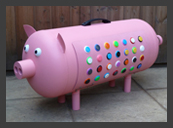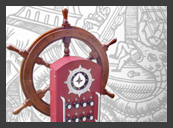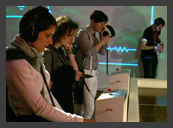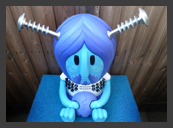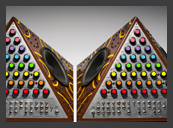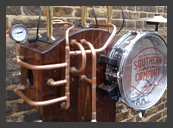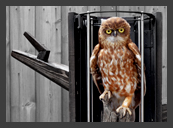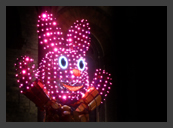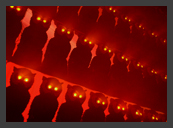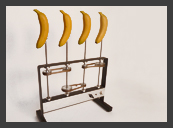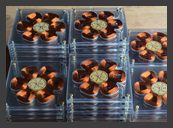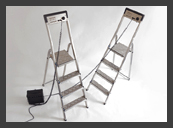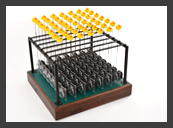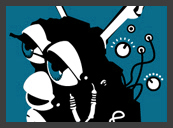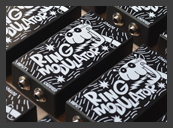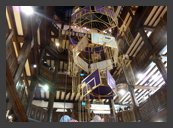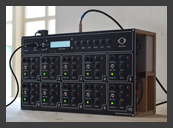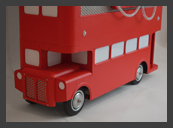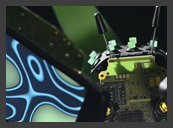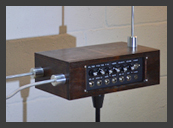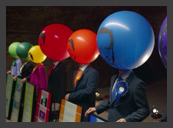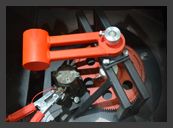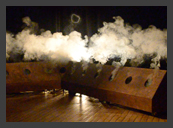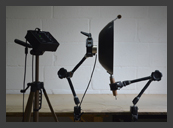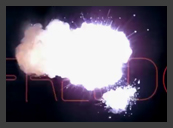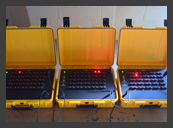 20th April 2016
Household objects turned into musical instruments for Desperados beer...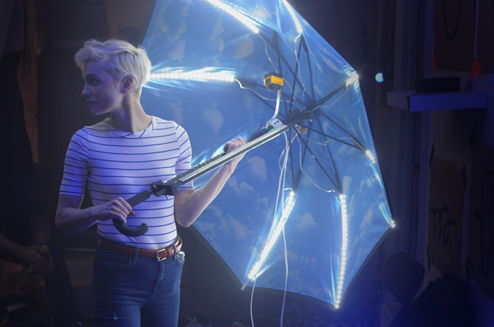 31st March 2016
Just arrived back from 3 days in Manchester at the Future Everything festival, installing the Smoke Signals collaboration with Ed Carter and giving a talk about various projects. That's Anthony Burgess' piano in the photo below. Thanks to all the awesome people who I met, and to my good friend Dr. Ben Still for signing my copy of his book about quantum mechanics. We are going to do a sculptural / scientific collaboration after he's finished his second book and got married.

It is now my ambition to open a fast food outlet directly opposite the Anthony Burgess Foundation, called "Anthony's Burger Foundation".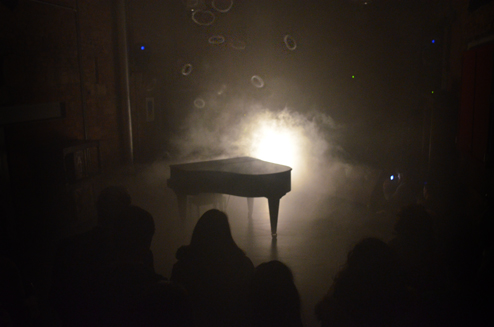 27th March 2016
MIDI and audio controlled light sculpture for James LeBaigue.

The system we developed can easily be expanded - get in touch if you have a project that needs many hundreds of programmable LEDs!

Email: dave@ [this website]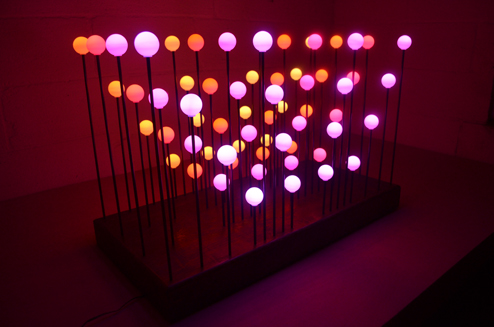 30th January 2016
Prototype circuit boards machined with 1mm cutter...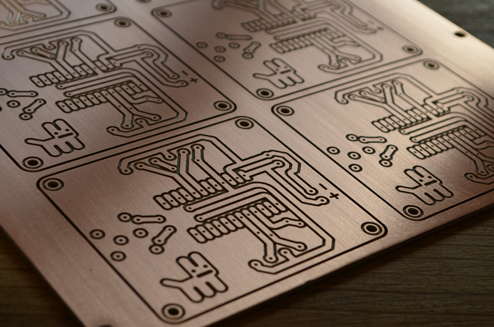 22nd January 2016
A project from last year - musically timed dropping of stuff into water for Samsung
1st December 2015
Two TTSH Arp 2600 clones - let me know if you need a custom synth or theremin built.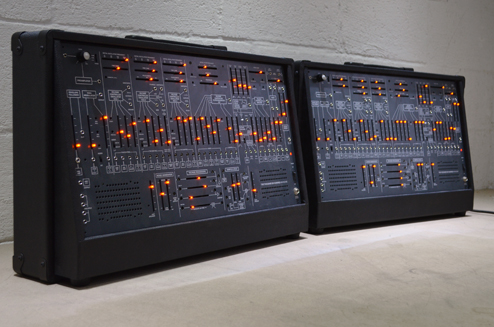 29th November 2015
Refurbishment / redesign of robotic paintball gun turrets
23rd October 2015
The Octopus Machine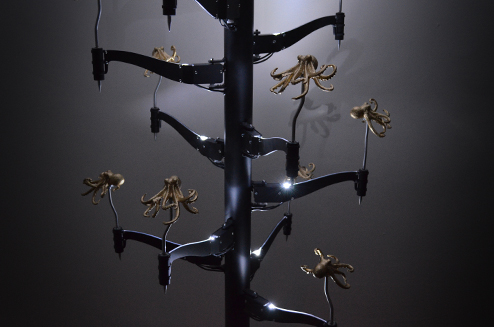 19th October 2015
The Boag's Meteorphonium - a weather controlled electro-mechanical sound installation, with music by composer Nick Ryan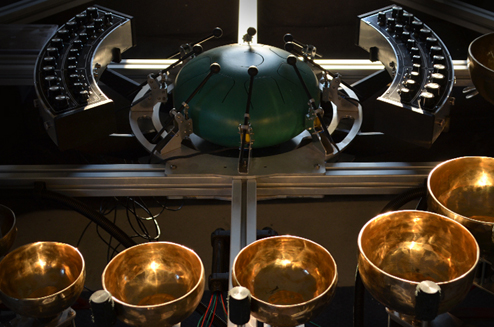 19th October 2015
Marble lift for Isabel and Helen
25th September 2015
Hundreds and hundreds of toys controlled in time to music!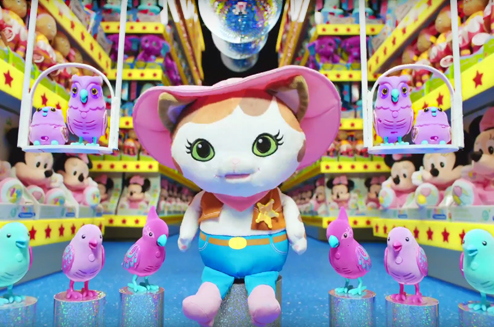 25th August 2015
A sculptural commission in progress...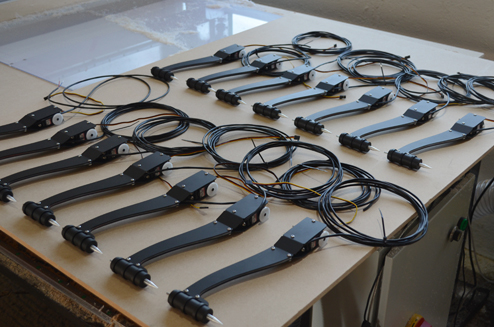 7th August 2015
Awesome new CNC router!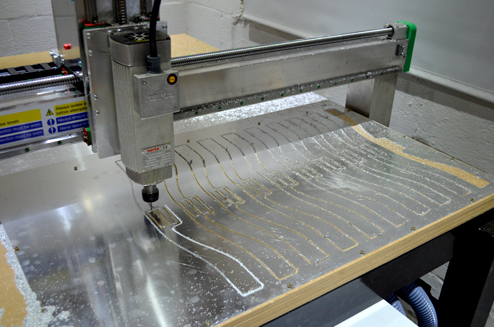 26th June 2015
Smoke Signals - a second collaboration with artist and composer Ed Carter
25th June 2015
Air cannons, gunge and explosions for Pizza Hut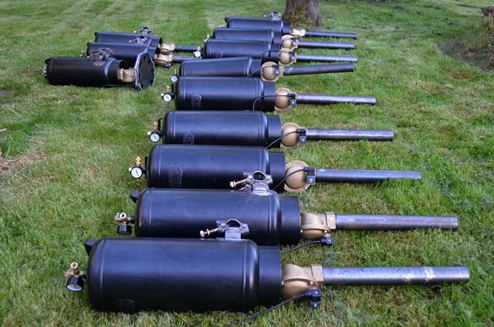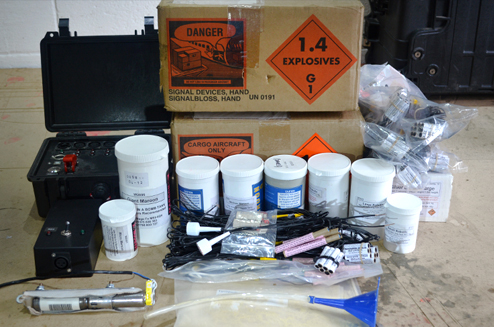 28th April 2015
Electromagnetic resonator system for composer Johnny Random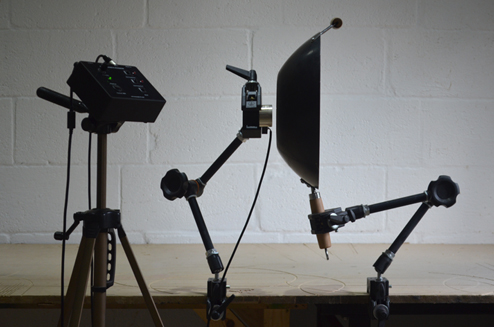 27th April 2015
Electronic / pneumatic inflating head system for Is This Good?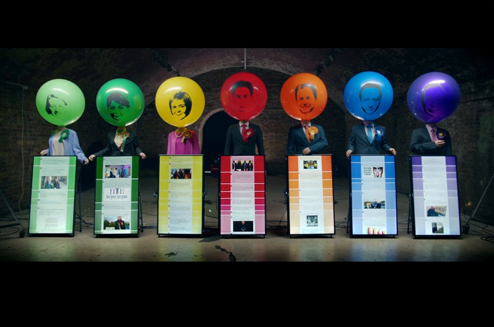 21st April 2015
Exploding stuff in the garden: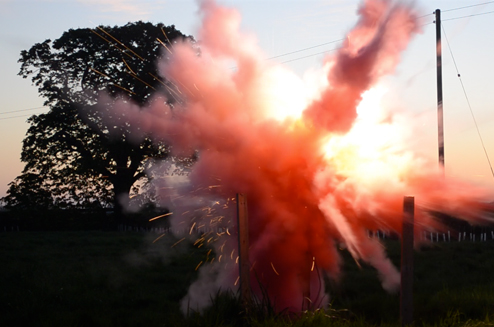 2nd April 2015
Hundreds of balloons popped perfectly in time to music, using wonderfully dangerous stabbing mechanisms and a clever control system. Click here for photos and the finished Argos TV ad.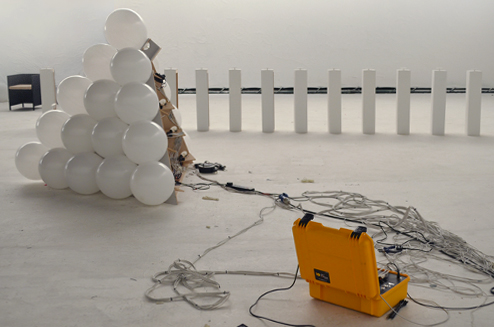 1st March 2015
Some magic boxes for an exciting new project...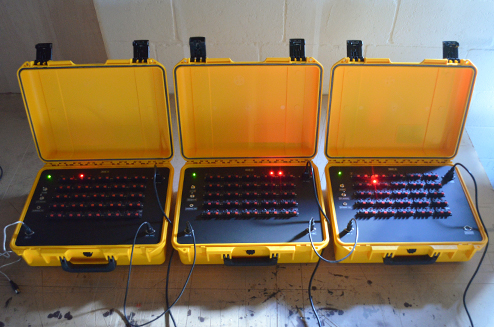 21st February 2015
Commissioned by Toyota for Red Nose Day, various sensors, motors, speakers and water jets were used to create an interactive ticklish car!

More details here.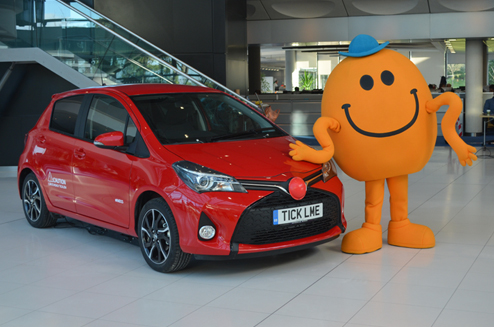 31st December 2014
A theremin commissioned for this year's Royal Institution Christmas Lectures.

What would your ideal theremin look like? Get in touch if you would like a custom one - email dave@ [this website]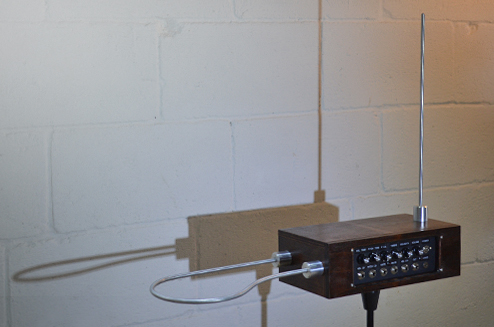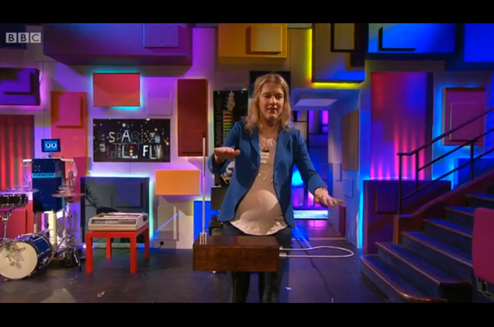 18th November 2014
An amazing new musical instrument - the resonating bell plate system.

"A new work by Ed Carter combining sculpture, sound, light and live performance. Fl10s: False Lights Seaham is inspired by East Durham's maritime heritage, and responds specifically to the 1962 George Elmy lifeboat disaster. Fl10s comprises an installation, composition, and a site-specific live performance."

This project involved plenty of hard work by a lot of people. I made the electronic control system, electromagnet brackets, and motorised light rigs. Check it out here.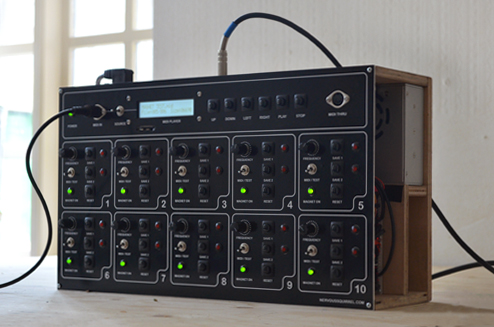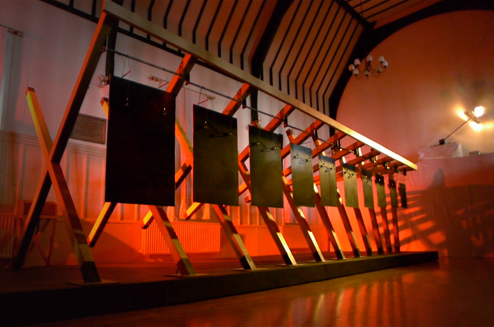 10th November 2014
Some recent small projects: motorised hats for an installation by Patrick Furness, LED globe for Machine Shop, technical consultation for an ad for Currys.
27th October 2014
Strange experiments in the orchard, involving motors, lights and MIDI...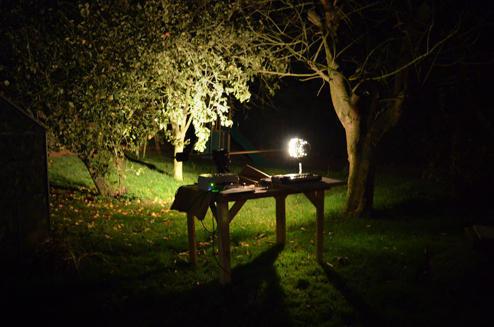 17th September 2014
Thanks to everyone who came along on Thursday! Photos and video of the giant robotic crow here, 'making of' here.

The crow is for sale - get in touch if interested.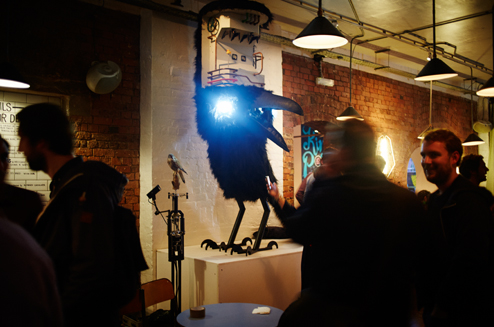 1st August 2014
Currently working on a large mechanical crow for an exhibition at The Book Club gallery / bar, Shoreditch. It will be there from September 11th to November 16th.



20th June 2014
Fresh batch of ring modulator effects boxes for sale - with fantastic new artwork by Pete Fowler!

Order one today - they are going fast.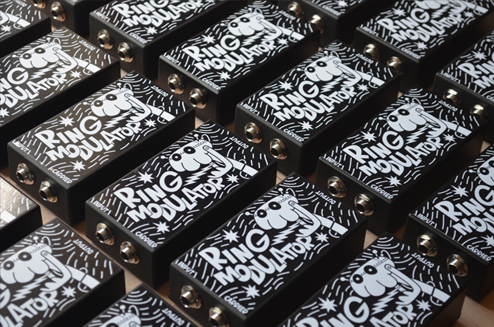 10th July 2014
An interactive bus for Ted Baker, for their new store in Tokyo.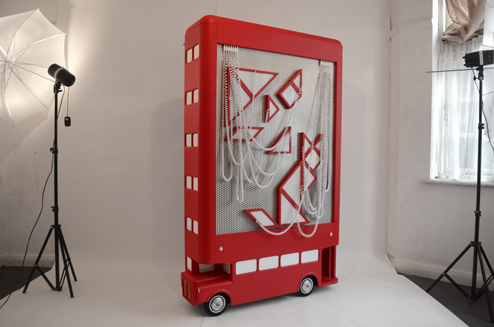 3rd June 2014
Mechanical butterflies for O2. Also on BBC news!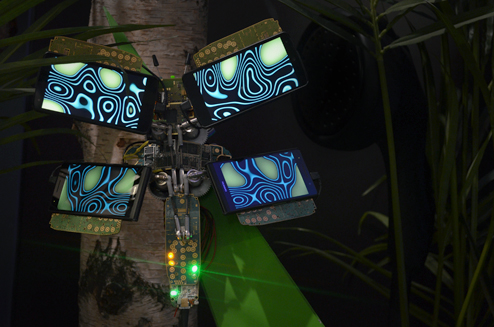 9th May 2014
The Badgermin appears in "Chat" magazine...
20th April 2014
Finally, after all this time, a video of the musical stepladders...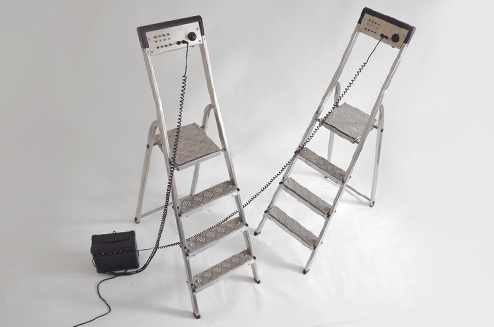 10th March 2014
Just received some PCBs in the post, designed using the free Fritzing software - highly recommended! The photo shows a custom Arduino Mega shield with 14 MOSFETs, which will allow a load of LED strips to be faded using PWM. The delivery even came with stickers!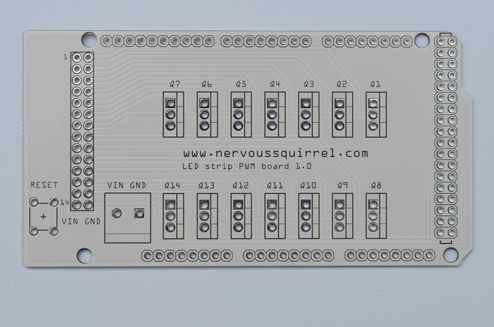 19th January 2014
Two hundred copper coils to teach children about electromagnetism.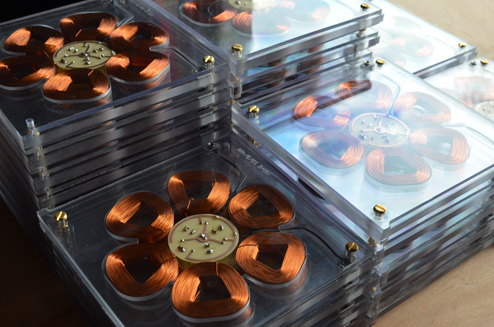 16th January 2014
Mechanism to retain sword within stone, made for Machine Shop Special Effects. The mechanism was eventually mounted inside a fibreglass boulder, with a proper sword made by a swordsmith. The blade was gripped by two semicircular cams, until released by two solenoids on a timer.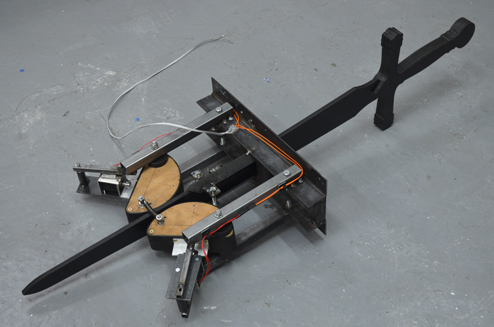 9th January 2014
Pigeon message containers.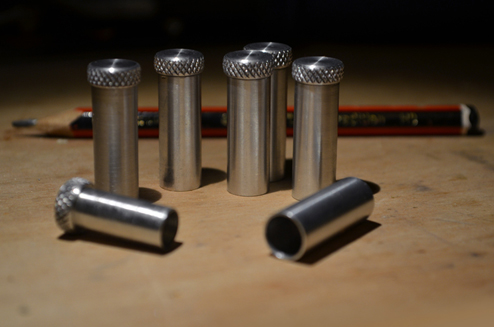 12th December 2013
Four octaves of chromatically tuned hooting - the Owl Organ in Berlin. Plus a splendid video of owly Christmas songs!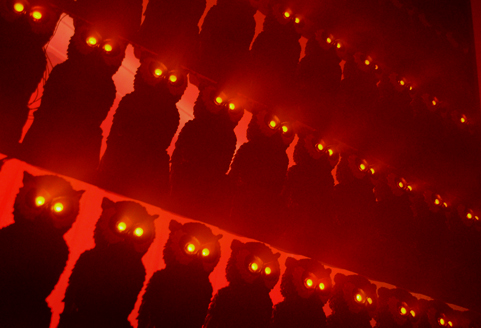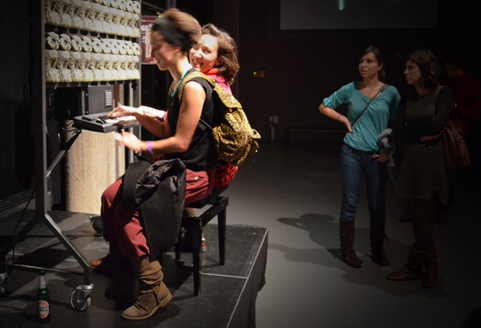 8th December 2013
A look around Oskar Sala's Mixtur-Trautonium...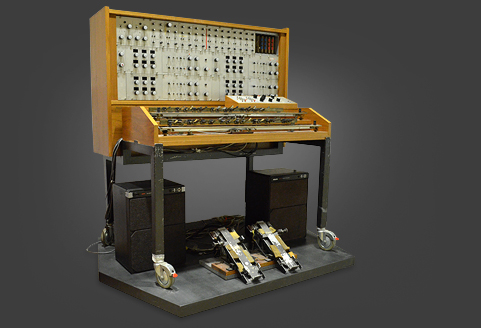 20th November 2013
Just received an Adafruit "Trinket" in the post. It's a microcontroller that's absolutely tiny, but that still does a lot of cool stuff. Here it is running the space invader example code on an 8X8 LED matrix... it can apparently store around 320 animation frames.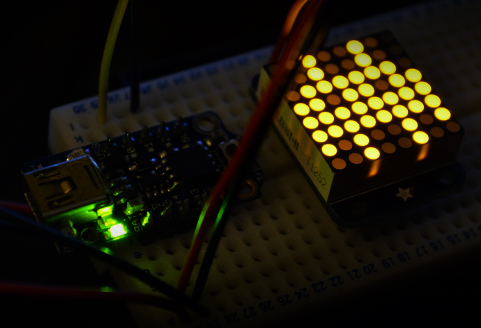 30th October 2013
A talk and demonstration of the Rave Kestrel at the RCA this week. Let me know if you would like to organise something similar.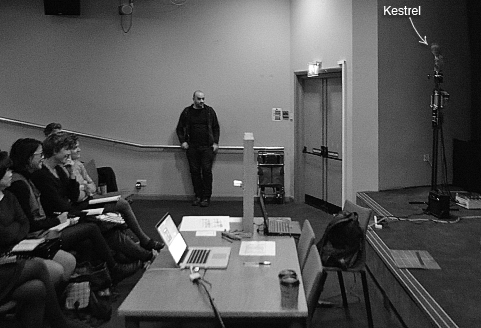 21st October 2013
Just spent a week at the Frieze London art fair, looking after the technical side of Ken Okiishi's motorised paintball installation. This man, an unknown visitor, had golden shoes!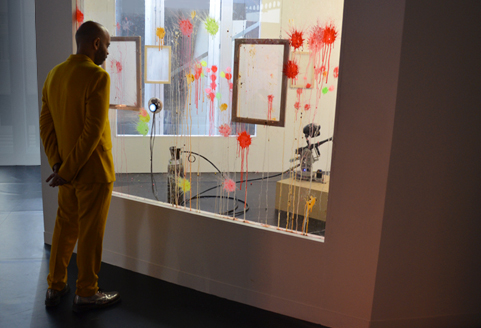 9th October 2013
An interesting duck related commission.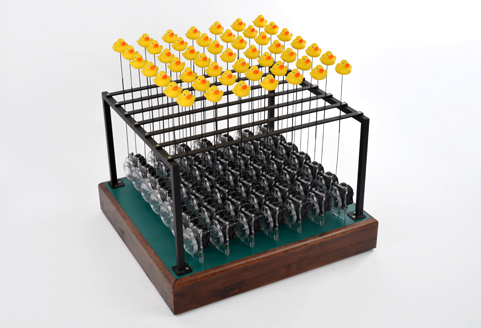 12th September 2013
Sequencing light project for Twigs...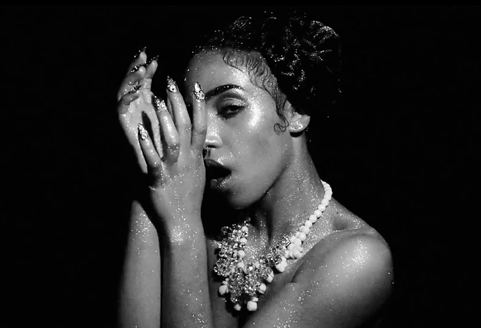 13th September 2013
Rapid Electronics have just uploaded a "customer profile" for me, which you can read here. Rapid really are great for electronic components - I'm not just trying to get them to send me a free T-shirt.
12th September 2013
Fans of wireless transmission systems and Spike Milligan might appreciate this photo sent by my brother earlier this evening: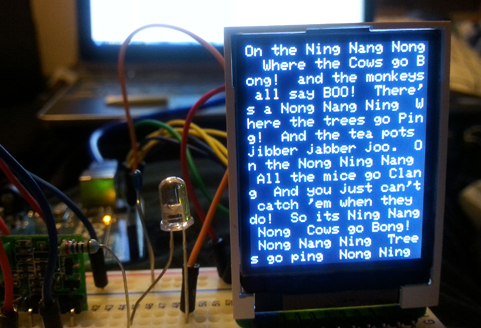 2nd August 2013
Fantastic wall mounted cross stitch synth collaboration with Pete Fowler!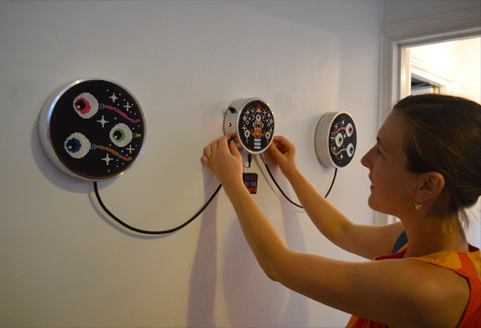 19th June 2013
Owl Theremin - more details here.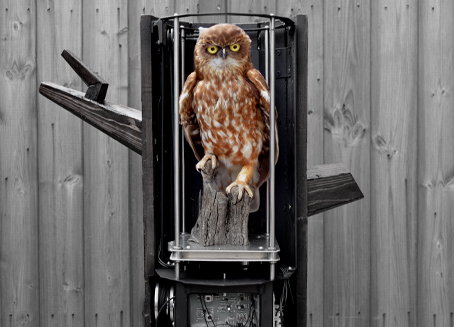 18th May 2013
An LED suit for Leo Messi, used in a visually stunning new advert for Adidas. I wired up two suits at the workshop of Machine Shop Special Effects Ltd, and looked after them on the fairly high pressure shoot in Barcelona. ML Studios created the spectacular post production trailing light effects.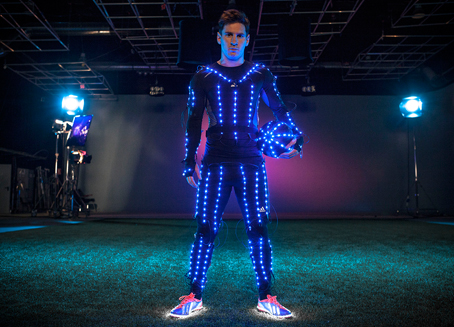 13th May 2013
Pyramid shaped synthesisers are certainly in this season! Just finished a new project for Jay Gambit, with glowing hexagons, constructed in between repeated work visits to Spain.

Click here for photos and video...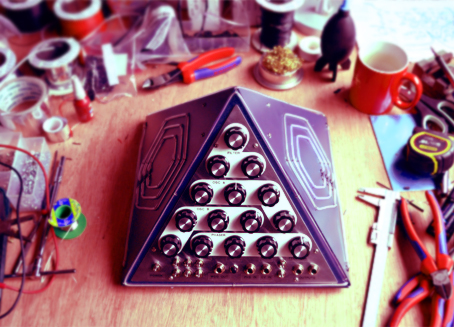 12th May 2013
I have three PAiA Theremax kits currently being assembled. Let me know if you want a custom theremin.
19th January 2013
At last, it's the Rave Kestrel!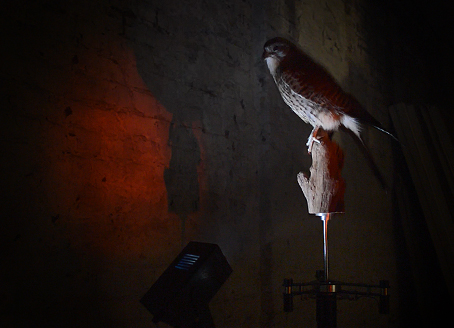 22nd January 2013
Two self-contained interactive audio systems, designed to last outdoors and survive being repeatedly poked at by members of the public. Battery powered, waterproof (including speakers) and with a large amount of programmable options, these units still had a quick turnaround.

The sound files included were of Spongebob Squarepants and Dora the Explorer. Get in touch if you need a robust custom audio system fabricated.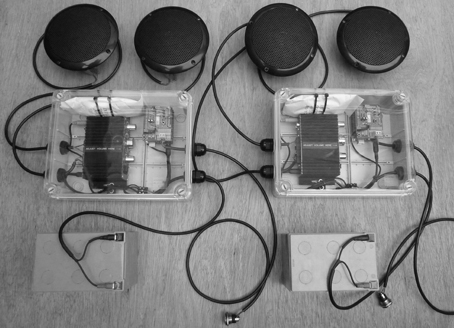 2nd January 2013
On December 31st the BBC broadcast Jools Holland's Annual Hootenanny, which featured one of the pyramid synths being played by Richard Russell, with Bobby Womack, Damon Albarn, and Jools' Rhythm & Blues Orchestra. You can watch the footage here
31st October 2012
Finally visited The Horrors' studio today for the Pyramid Synth handover. This project was completed earlier this year, but has been top secret until today - quite fittingly All Hallows' Evening. Two custom synthesisers: another collaboration with Pete Fowler, commissioned by XL Recordings, more details here!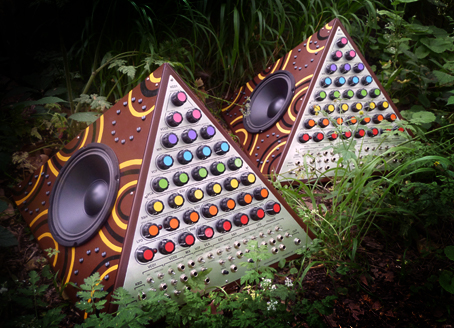 23rd October 2012 - "Amazing Duracell Bunny LED Light Sculpture"
Just finished making a giant glowing bunny for Duracell...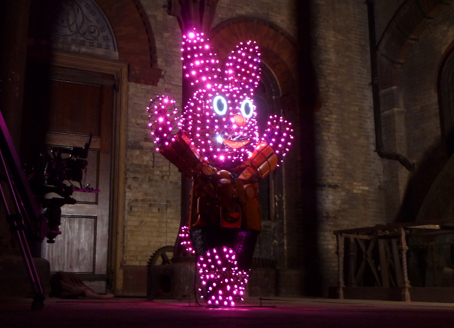 19th October 2012
A small selection of recent projects at the fabulous workshop of Machine Shop special effects have included an enormous flamethrower, pneumatic seesaw, and the execution of a schoolboy: click here
11th July 2012
Two drink-dispensing musical machines for Southern Comfort.

These were part of the Southern Comfort Juke-Joint festival tour, which went on to win "Best Brand Activation" at the UK2012 Festival Awards.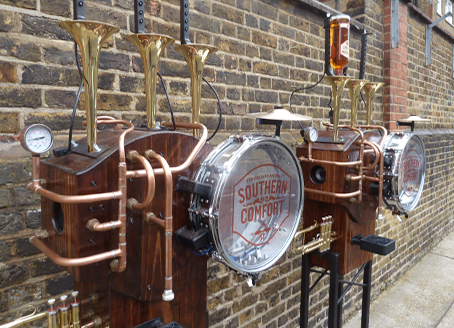 4th April 2012
Wonderful new video of the Badgermin, featuring theremin virtuoso with grand piano accompaniment!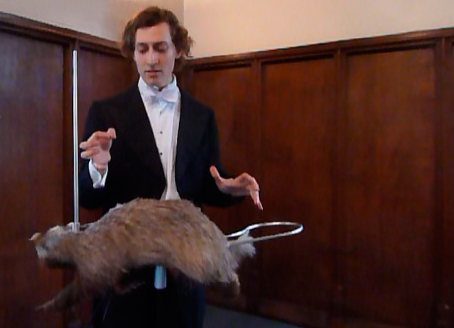 3rd April 2012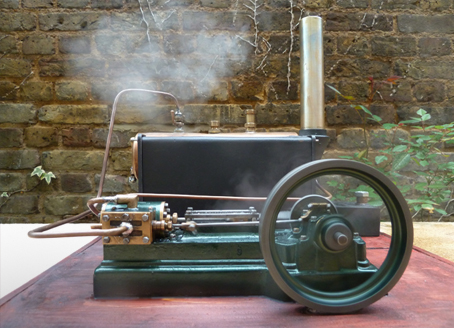 1st January 2012
2nd January 2012
A theremin built into a taxidermy badger - The Badgermin.

Photos and video here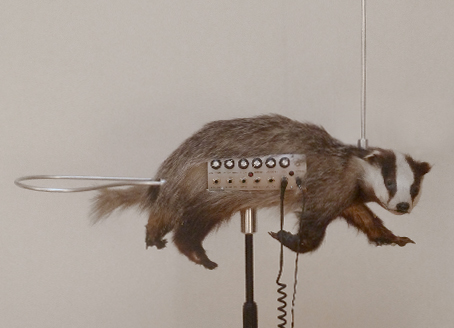 10th December 2011
Sets for TV built this year.
9th December 2011
MIDI-controlled pneumatic drumming machine prototype - photos and video
8th December 2011
Stones made out of expanding rubber foam - photos here
27th November 2011
At long last a few photos of Kinetica 2011

"Kinetica Art Fair is produced by Kinetica Museum and is the first of its kind in the UK. It provides collectors, curators and the public with a unique opportunity to view and purchase artworks from leading contemporary arts organisations and artists specialising in kinetic, electronic, robotic, light, sound, time-based and interdisciplinary new media art."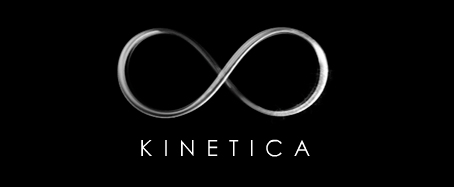 15th November 2011
Collaboration with Pete Fowler - electronic Van Orlax


18th June 2011
Interesting conference 2011

IF ANYONE HAS AUDIO / VIDEO / PHOTOS OF THE HACK CIRCUS / INTERESTING CONFERENCE 2011 NINE OWLS IN A BAGUETTE PERFORMANCE PLEASE GET IN TOUCH!

Apologies for the capital letters. Email address is dave (at) this website.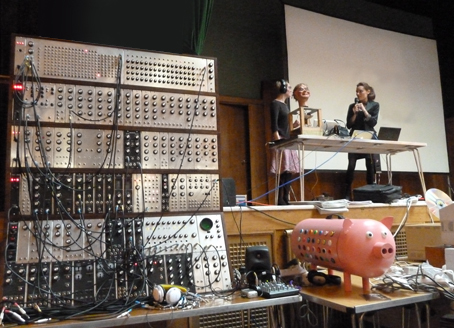 27th April 2011
Calculator Orrery - a mechanical model of the universe represented by rotating vintage calculators.
23rd April 2011
16th April 2011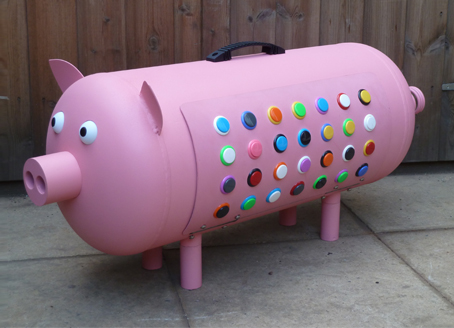 27th January 2011
9 Owls in a Baguette gig last night: